Nik, the owner of The North Facing Garden is an exceptional plantsman and gardener with a careful and skilled eye for detail and design turning a small north-facing garden into a wonderous treasure trove of plants. Nik who is an avid fan of hardy geraniums and confesses to be somewhat obsessed with them, wrote this piece towards the end of last year reviewing the Top Ten best performing geraniums in his beautiful north facing garden.
The North Facing Garden has recently moved geographically and is beginning a new chapter. I personally can't wait to see what happens next. You can follow Nik and The North Facing Garden on Facebook or Instagram
TOP TEN Best-performing Geraniums in The North-facing Garden in 2019
NUMBER 10 = Geranium palustre (Marsh cranesbill)
This deciduous perennial hardy gera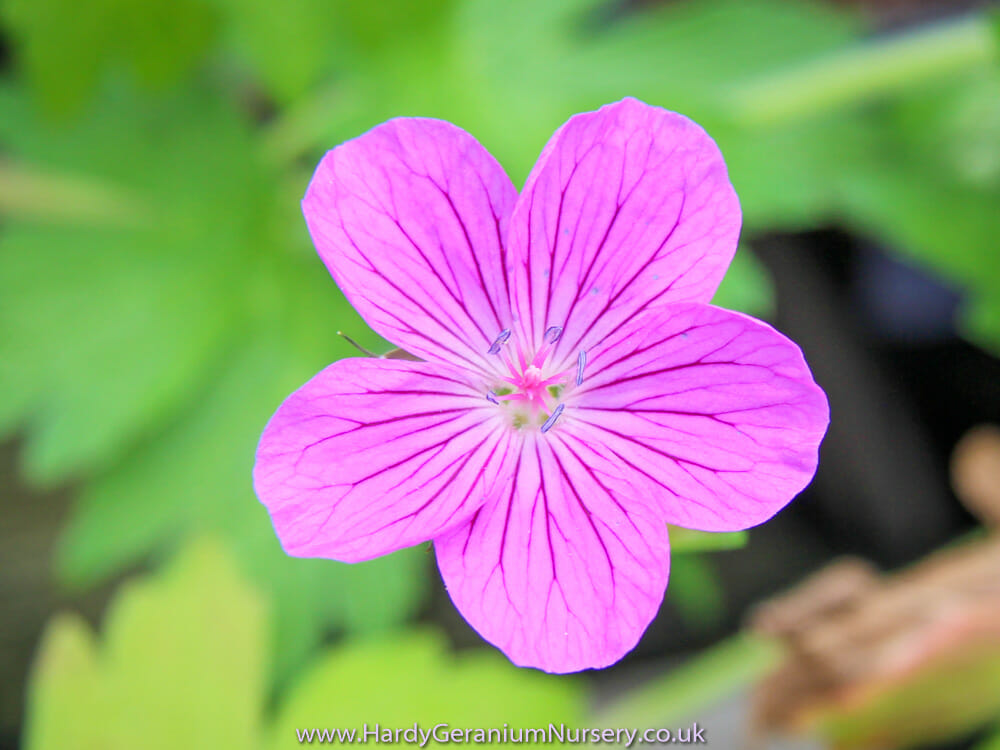 nium, originating from damp marshlands in eastern and central Europe, forms spreading/arching clumps of dissected and coarsely toothed light green shiny leaves. From early summer to autumn, it produces bright pink open cup-shaped flowers on thin stems, with darker pink veins and a small white centre. Happy in sun to semi-shade but prefers damp soil. 40cm H
This geranium would have been absent from my collection this time last year, and definitely not in the Top Ten. I bought and planted it in the particularly hot May and June of 2018, in my 'wild' area, next to my small wildlife pond, in a shaded to semi-shaded, quite damp position. where it promptly lost all its leaves and appeared to die. THIS year, however, not only did it re-appear in its position in spring; but it then proceeded to be a star performer, sending out masses of reaching/scrambling stems, across the small wildlife pond and throughout the surrounding plants, and flowered practically all summer. A surprising delight, it would do just as well in a more traditional planting 'bed', used to clamber through taller perennials and/or shrubs. Not commonly seen or championed in lists of recommendations, this simple flowered but robust geranium is a delight to be reckoned with! Just don't let it dry out.
NUMBER 9 = Geranium 'Bob's Blunder'
This deciduous perennial hybrid hardy geranium was created by and named after the owner of Cotswold Garden Flowers nursery, Bob Brown. It forms mounds of spreading, trailing small purple bronze leaves with red veins. From late spring to autumn produces impressive quantities of small saucer-shaped bright pink flowers. Robust and hardy, even in shade. 10-20cm H. Don't be deceived by the appearance of this little trojan! On first glance it may resemble some of the small 'alpine' type geraniums and hybrids, particularly with its coloured foliage. However, it survives and thrives in conditions where such small types would usually struggle/die, particularly in a wet winter in this location. Happy in a range of soils, conditions and situations, this gem is more of a 'triumph' than a 'blunder'!
NUMBER 8 = Geranium 'Blushing Turtle' syn. Geranium 'Breathless' (name revoked) (Geranium sanguineum x Geranium x oxonianum 'Julie Brennan' or Geranium asphodeloides)
This semi-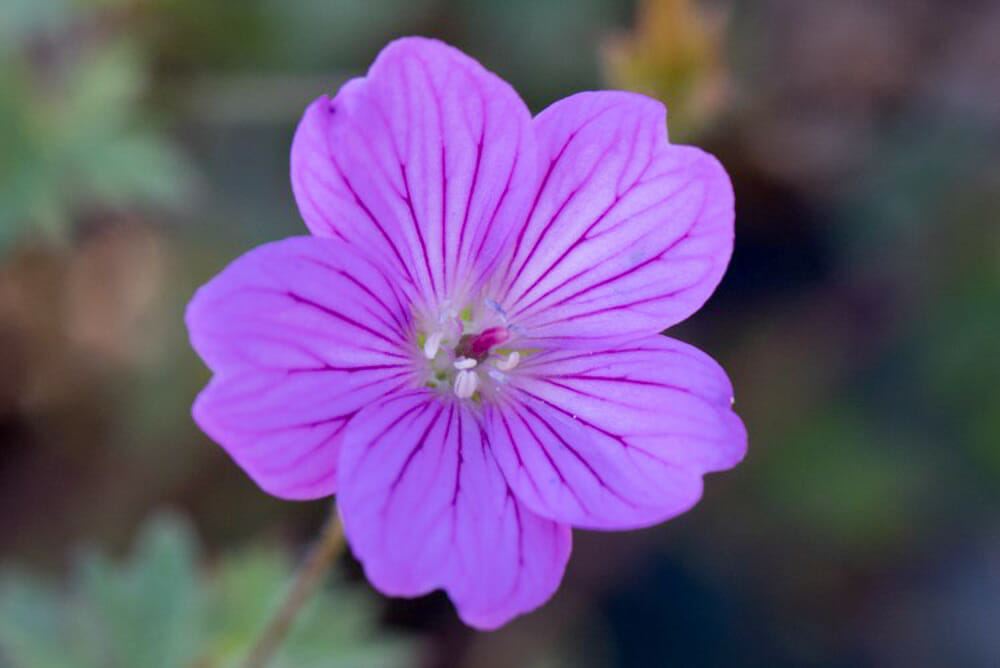 evergreen hybrid hardy geranium was introduced in 2010 and is currently without specifically pinpointed parentage. It forms spreading clumps with trailing stems of dissected dark green leaves, similar to but larger than those of the sanguineum parent, which attractively change colour in autumn. From summer into autumn produces violet pink saucer-shaped flowers with deeper magenta pink veins and slightly ruffled notched petals. Prefers sun to semi-shade. 40cm H. A star performer here in 2018, this beauty has not disappointed in 2019, happily spreading around larger upright plants, and mingling with wallichianum types. Presumably even more floriferous in a sunnier position, this is definitely one to recommend! Next year I will be seeking out the newer hybrid Geranium 'Deux Fleurs', which apparently shares the same habit but with flowers (2 per stem!) that are slightly richer/darker in colour, and notably larger.
NUMBER 7 = Geranium x monacense var. anglicum syn. Geranium x monacensce nothovar. anglicum (Geranium phaeum var. lividum x Geranium reflexum)
Geranium x monacense varieties are hybrids resulting from Geranium phaeum and Geranium reflexum. Geranium x monacense nothovar. monacense varieties, (eg. 'Claudine Dupont'), are the result of Geranium phaeum var. phaeum crossed with Geranium reflexum; and Geranium x monacense nothovar. anglicum varieties are the result of Geranium phaeum var. lividum crossed with Geranium reflexum. They all combine the common features of both species and are suitable for areas of dry shade. Some resemble the phaeum parent more in both leaf form, flower shape and colour (eg. x monacense 'Claudine Dupont'), whereas others (eg. x monacense 'Jackie') have a 'thinner' reflexed flower shape more reminiscent of the reflexum parent. Both can also be referred to as Geranium punctatum. 40-60cm H
I have chosen to feature x monacense var. anglicum in my top ten, for the following reasons. The large plain pale green typical phaeum-type leaves have no markings/blotches, and the pretty pale lilac pink flowers are held on tall stems. On closer inspection, the flowers have a blue lilac ring towards their centre, just at the point where the petals softly reflex, along with slight veining. This to me is a reminder that this is neither a phaeum nor reflexum, but a simple beauty 'in-between'. Within its first year planted in a particularly shaded spot here in The North-facing Garden, it has proved itself to be a robust and floriferous addition, that I have already been able to successfully divide and create very strong new plants.
NUMBER 6 = Geranium 'Orkney Cherry' syn. 'Bremerry'
(Geranium x oxonianum X Geranium x antipodeum [antipodeum being a Geranium traversii hybrid])
This deciduous perenn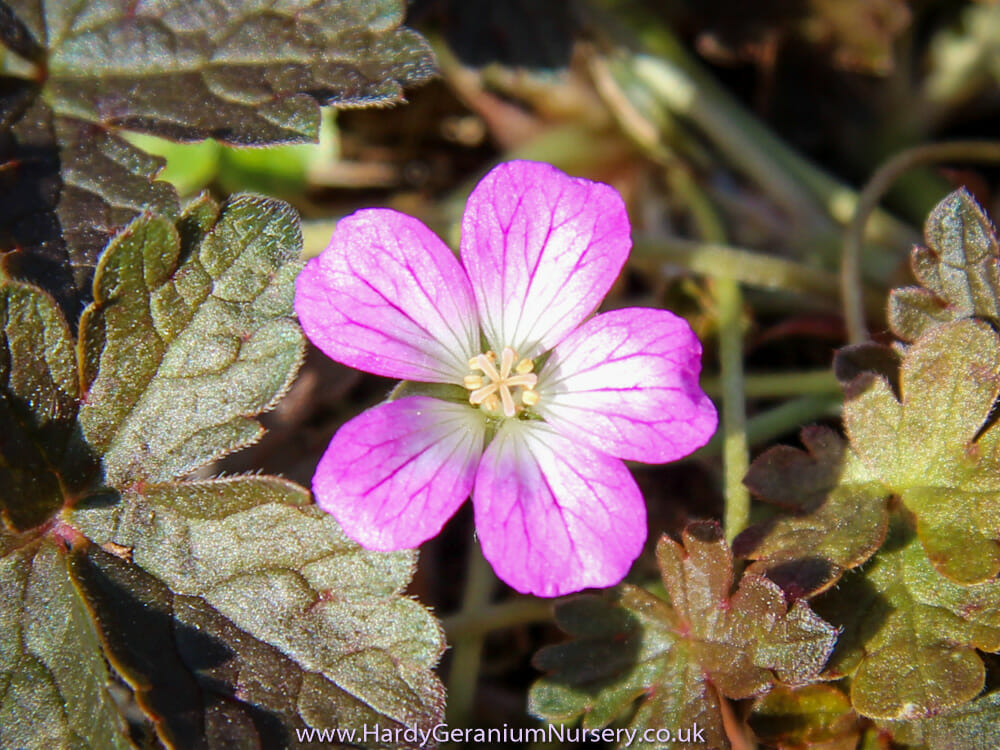 ial hybrid hardy geranium is a dwarf variety forming a low trailing mound of divided bronze and green leaves. From early summer onwards, produces small open saucer-shaped bright cherry pink flowers with a white centre and notched petals. A very popular hybrid from Alan Bremner of Orkney, this geranium prefers full sun, but will grow in semi-shade if the drainage is adequate, although shade will result in less depth of colour to the leaves. Mine is grown in a stand-alone pot, and over-wintered in the greenhouse to protect from excessive winter wet.
Introduced in mid 2000s, (with a US patent granted in 2007), this Alan Bremner hybrid is often confused with/mis-sold as his earlier hybrid Geranium 'Orkney Pink', which has slightly smaller, more star-shaped flowers with thinner petals. 25- 30cm H
This charming hybrid is included in the 'top ten' since it has proved itself particularly robust here, despite being a small 'alpine-type' geranium. I still won't risk leaving it out all winter here, due to the dark wet conditions here over winter (as opposed to any concerns over frost damage), but kept near dry/just moist in the greenhouse, it reliably returns in spring, ready to join my potted display after the daffodils have finished. It was still flowering here in November before it took its place in the greenhouse, long after any available sun left its pot's position.
NUMBER 5 = Geranium 'Madelon' (Geranium psilostemon x Geranium x oxonianum)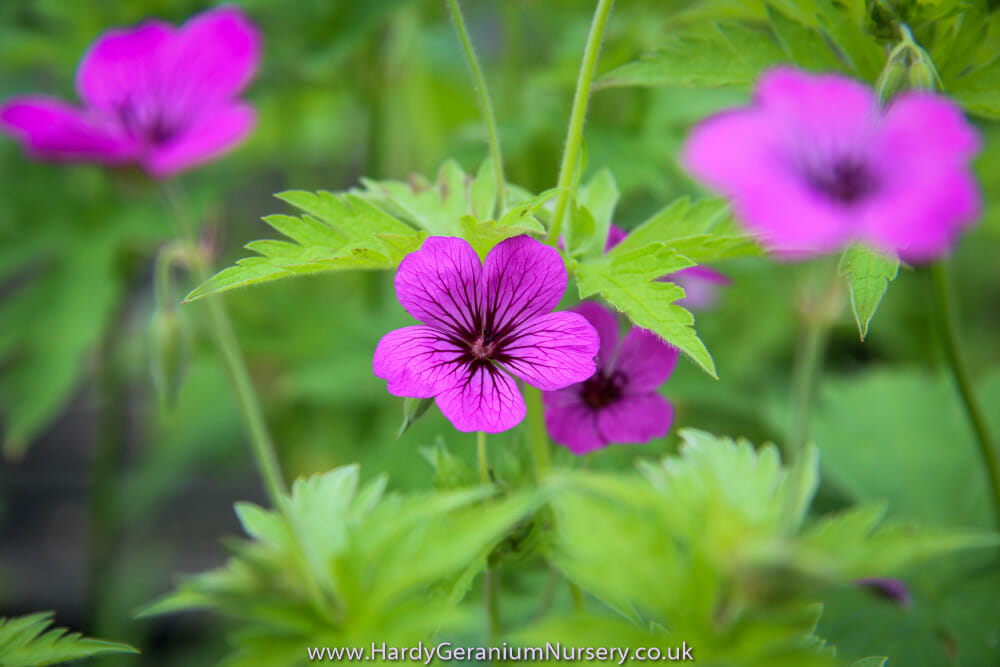 This deciduous perennial hybrid hardy geranium, is one of several psilostemon and x oxonianum crosses, originating in Holland and introduced by Coen Jansen. It retains the height of the psilostemon parent, with tall stems rising above the large green leaves. However, unlike other psilostemon hybrids, the flower is much smaller, more the size of a modest x oxonianum. They basically look like miniature psilostemon flowers with dark magenta petals and deep near black veining and centre, carried in pleasingly large numbers on tall stems to a very pretty effect. 80cm H. Planted in one of the sunniest positions available here in The North-facing Garden, it may struggle in a more shaded location, but seems to be happier than both Patricia and psilostemon itself.
NUMBER 4 = Geranium 'Fay Anna' syn. Geranium wlassovianum 'Fay Anna'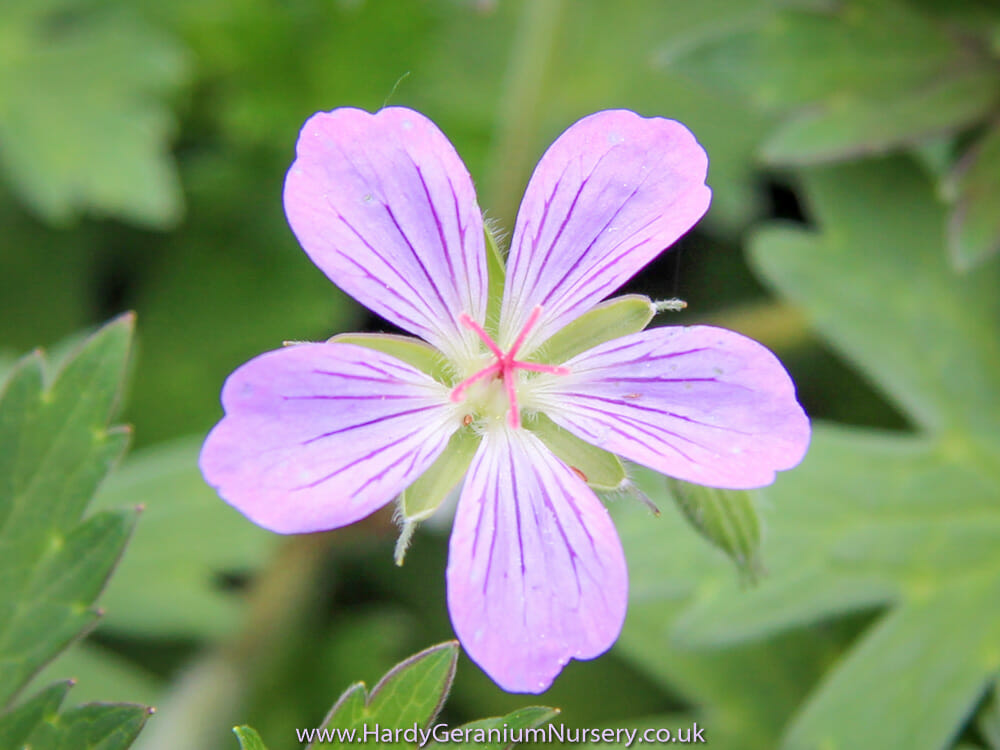 This deciduous perennial hardy geranium forms clumps of hairy shallow-lobed sharply divided leaves, which open pink and bronze, turning green with red brown centres and then bright bronze shades in autumn. From summer to autumn, produces saucer-shaped lilac pink flowers with thin darker veined petals and lighter centres. Happy in sun or shade. 20cm H
Despite having smaller flowers than other wlassovianums/wlassovianum-types (all of which I find a wonderful addition for their flowering period and changing foliage), this Geranium is at number 4 in my Top Ten for the following reasons. What it lacks in flower size it most definitely makes up for in sheer volume of flowers produced. Additionally, I find it to be more robust and drought tolerant than other wlassovianums/wlassovianum-types. Less spreading than classic wlassovianums, it also is a great choice where space is limited, provided a large clump with prolific flower-power!
NUMBER 3 = Geranium 'Azure Rush'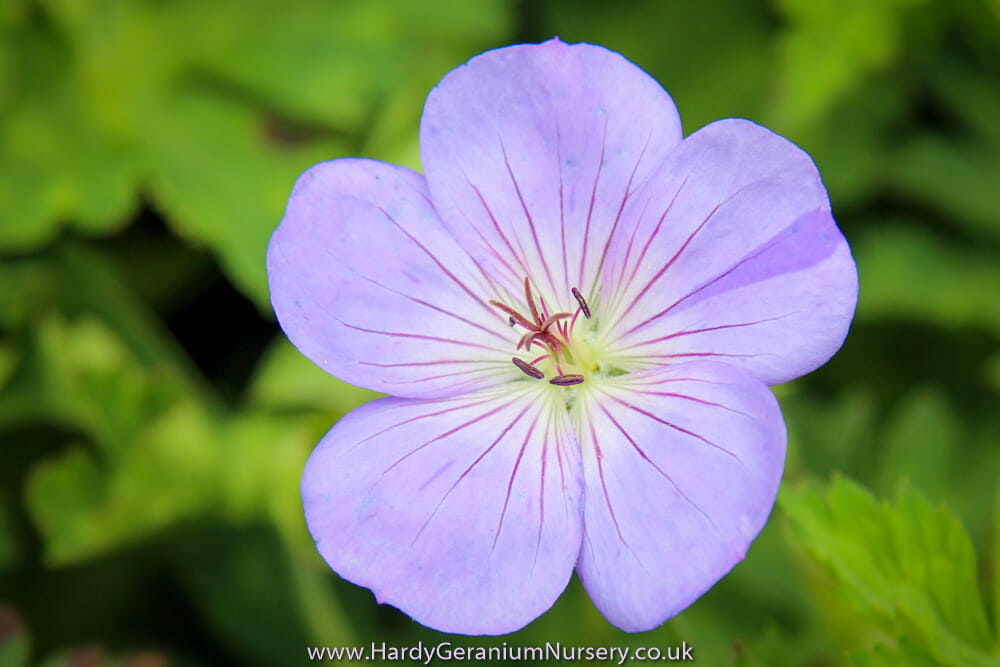 Deciduous perennial hardy geranium, a 'sport' or mutation of Geranium 'ROZANNE' discovered in Germany in 2007 and introduced in the UK by Blooms of Bressingham. The light marbled foliage is similar to other Geranium wallichianum types and hybrids, but slightly more compact in terms of spread. From late spring to the first frosts, produces saucer-shaped blue flowers with a white centre, very similar to those of both 'ROZANNE' and wallichianum varieties, but a lighter blue, and fading to lavender/lilac blue. Prefers sun to semi-shade. 30-45cm H
I have fallen in love with this geranium over the past year, and actually prefer it to 'ROZANNE'! It is 'tidier', having a smaller spread, and the numerous flowers over a long period out flowered both of my 'ROZANNE' specimens this year. The colour is also a brighter, more 'true' blue. A gorgeous geranium, becoming increasingly popular, but inevitably also already becoming increasingly mis-sold.
NUMBER 2 = Geranium phaeum 'Lady in Mourning'
(Dusky cranesbill, Mourning Widow, Phaeum black-flowered, Red-stemmed dark form phaeum)
It was not an easy task for me to choose a 'favourite' variety of Geranium phaeum, commonly known as the 'Dusky cranesbill' and often called the 'Mourning Widow', since I currently have over 40 different named cultivars in my collection here in The North-facing Garden! This particular chosen variety has darkest maroon near-black flowers with a small white centre surrounded by a crimson ring, and slightly frilled petal edges. It was recently renamed 'Lady in Mourning' in an attempt to distinguish it from the many darker coloured forms that so commonly get generically referred to as 'Mourning Widow'. The flowers are produced on tall dark red-black stems held above large plain bright green leaves. A stunning phaeum cultivar.
Geranium phaeum is a semi-evergreen perennial hardy geranium, introduced into British gardens in the 1500s, and now sometimes found growing wild in certain areas. The large hairy divided green leaves often have dark purple brown blotches and markings (phaeum means 'brownish') and form large spreading clumps. In late spring and early summer produces tall stems carrying multiple (typically) deepest purple or deep red brown flowers with white centres and reflexed petals. Prefers moist semi-shade to shade, but is adaptable to a variety of situations, including dry shade once established. There are many named varieties varying in both flower colour and flower size, and also leaf colour and markings; as well as the extent to which the petals are reflexed. The colour forms of Geranium phaeum I have here are in the following ranges. Darkest Maroon eg. 'Angelina', 'Chocolate Biscuit', 'Samobor', var. phaeum.
NUMBER ONE = Geranium x oxonianum 'Hexham White' (Geranium endressii x Geranium versicolor)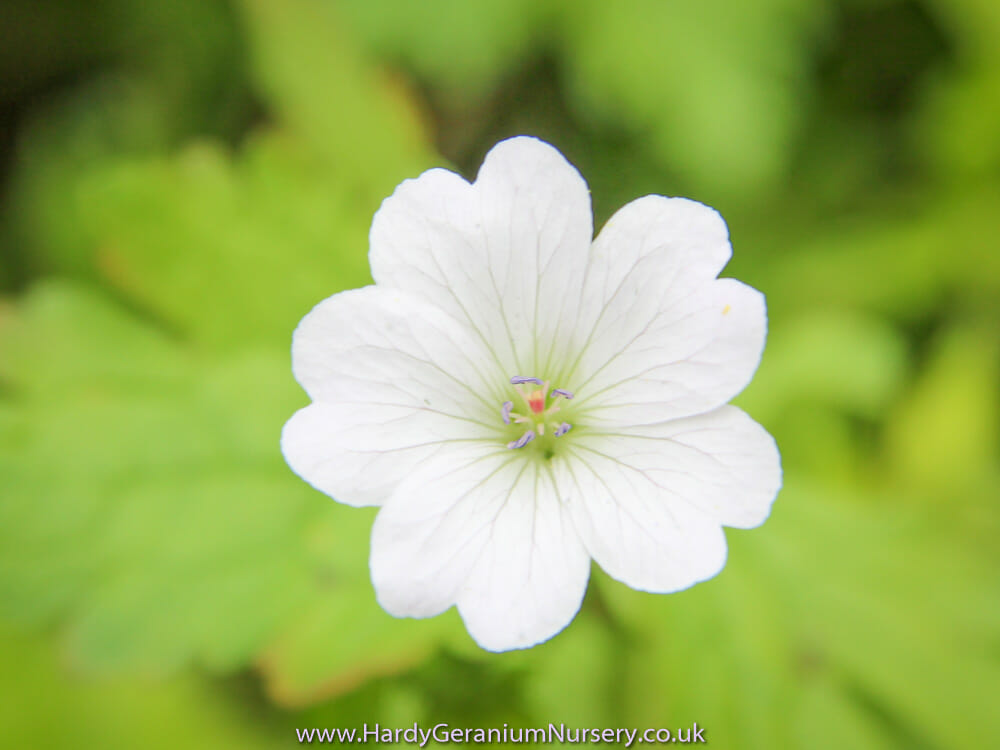 Any variety of Geranium x oxonianum is more than welcome here in The North-facing Garden, due to the general robustness, hardiness, tolerance of varying conditions regarding both light and soil type, but THIS recent acquisition of mine takes the prize and my heart! Bred and introduced by Robin Moss, it was a 'newbie' for me in summer 2019. Familiar with the robust nature and large flower size on 'Hexham Pink' I was keen to see if Robin's white offering would match the performance ('Hexham Pink' has been divided several times over the past few years, and is a strong performer even in pretty darkly shaded situations). I must say I loved 'Hexham White' even before the flowers opened. It forms mounds of gorgeous light green leaves with prominent internodal blotches, like a Geranium versicolor that overdosed on gym membership! In certain light, they seem to glow lime or golden yellow. The white funnel-shaped flowers are a good size for an x oxonianum, and for a first year, it soon managed to produce a substantial clump. In addition, the leaves kept their qualities, didn't become weaker or thinner even later in the summer, the flowers were large and numerous, and kept going into autumn. I have a soft spot for the white variety of any plant, but 'Hexham White' has swiftly overtaken and outperformed my previous x oxonianum favourites 'David Rowlinson' and 'Trevor's White'. A superb Geranium I would now never be without!
Geranium x oxonianum varieties are hybrids between Geranium endressii (see 'Geranium endressii' picture and description) and Geranium versicolor (see picture and description). They are semi-evergreen, occasionally evergreen, vigorous clump forming plants. They form large clumps of divided leaves (very much like those of Geranium endressii) but with varying degrees of brown markings and blotches. From late spring to mid-autumn they produce funnel-shaped flowers with notched petals and dark, often patterned veins. There are hundreds of named varieties and they readily interbreed with each other and their parents. These range from…
Classics such as 'A.T. Johnson', 'Claridge Druce', 'Lady Moore', 'Phoebe Noble', 'Rose Clair' and 'Wargrave Pink'. Those with particularly coloured/patterned leaves such as 'Chocolate Strawberry', 'Katherine Adele', 'Miss Heidi' and 'Something Special'. Those appreciated for their 'veining' petal pattern inherited from the versicolor parent, such as 'Hollywood', 'Katherine Adele', 'Lace Time', 'Walter's Gift'. The 'Thurstonianum' types with their narrow petals that give the flowers a star-shaped appearance such as 'Breckland Brownie', 'Southcombe Double', 'Sue Cox', 'White Stripes'. Some combine several of the above features for double the value!